PRINCES HIGHWAY (NSW)
State Highway No. 1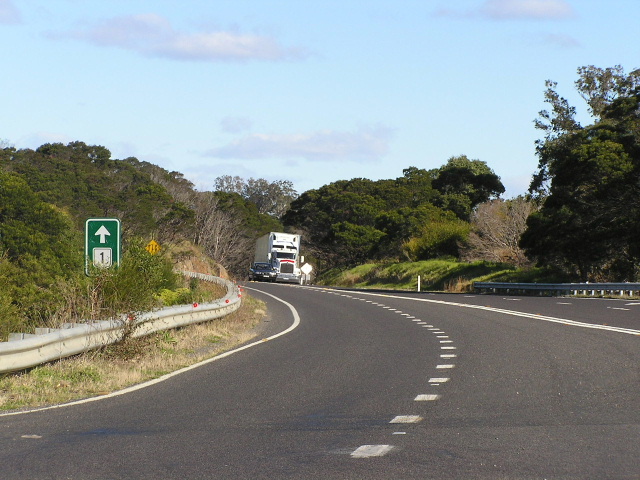 National Route 1 trailblazer southbound on the Tilba Bypass. Jul 2005.
Length: 554km
Northern Terminus: Broadway (Gt Western Hwy) & City Rd (Princes Hwy), Glebe
Southern Terminus: VIC/NSW Border, 48km south of Eden
Route Markers: State Route 54 (Broadway to Enmore Rd), Metroad 1 (Kogarah to Waterfall), State Route 60 (Waterfall to Yallah), National Route 1 (Yallah to VIC Border)
Interstate Continuation: Continues west to Adelaide via Melbourne and the coast
RTA Internal Classification: State Highway No. 1
Proclaimed a State Highway: 8th August 1928
Named: October 1920
Route Overview:
The Princes Highway forms a major part of Highway One, along the eastern and southern coastlines of Australia between Sydney and Adelaide. Within NSW it carries, for the most part, the National Route 1 shield, as well as shorter sections with the State Route 60 and Metroad 1 shields in Wollongong and Sydney. At its northern terminus, the highway carries State Route 54, but then reverts to being unnumbered between Newtown and Kogarah. The Princes Highway is the backbone of the NSW south coast, being the major road south to Wollongong and Nowra, and the only road south from there.
Explore the Princes Highway:
History and Development of Princes Highway
State Route 54 Section
Unnumbered Section - King Street, Newtown
State Route 66 Section (SR66 has now been decommissioned)
Metroad 1 section
State Route 60 Section
Former Alignment: Corrimal to North Wollongong
National Route 1 Section
National Route 1 remnants in Sydney
Further Reading (off-site):
Princes Hwy (NSW) - Michael Greenslade
A Time Lapse Road Trip - Sydney to Ulladulla 1971 (Youtube)
Notable events in the history of Princes Hwy:
Aug 1881 - First (southbound) bridge over Shoalhaven River, Nowra
19 Oct 1920 - "Prince's Highway" named at a ceremony at the top of Bulli Pass
1925 - Main Roads Board commenced reconstruction and sealing of the highway
1927 - First railway bridge at Yallah
8 Aug 1928 - Proclaimed State Highway No. 1
May 1929 - Tom Uglys Bridge over Georges River, Blakehurst (commenced Feb 1925)
Nov 1929 - King St, St Peters widening and reconstruction opened (commenced May 1927)
Nov 1929 - Wandandian Creek deviation
1930s - Bomaderry Deviation
May 1931 - Yallah-Dunmore Deviation
Jun 1931 - Bridge over Wagonga River, Narooma
1932 - Palwambra Mountain Deviation between Mogo and Moruya
1933 - Deviation on north side of Ulladulla (bypassing Mollymook)
1935 - Mt Pleasant Lookout constructed
1936 - Broughton Creek Deviation
Dec 1936 - Bridge over Brogo River, Brogo Pass
1938 - Gerringong Bypass
Dec 1939 - Cockwhy Range Deviation
1940s - Brogo Pass
1941 - Possessive form removed from name - became "Princes Hwy"
Dec 1947 - Ferry service commenced over Clyde River, Batemans Bay
1950 - Sealed from Batemans Bay to Moruya
May 1952 - Tom Uglys Bridge tolls removed
Jun 1955 - National Route 1 signage erected (Brisbane-Adelaide)
Aug 1956 - Corunna Deviation
21 Nov 1956 - Bridge over Clyde River, Batemans Bay (replaced ferry)
Mar 1957 - Bridge over Tuross River at Bodalla
Mar 1960 - Allsopps Ck-North Bega Deviation
May 1962 - Cooks River Bridge (replaced 1897 timber bridge)
Mar 1965 - Jack Seiffert Bridge over Towamba River, Kiah and sealing completed
Apr 1965 - bridge over Minnamurra River, Minnamurra
Nov 1966 - Bridge over Nullica River, S of Eden
Dec 1966 - Bridge over Moruya River, Moruya
Jul 1969 - Engadine Deviation
1971 - Northbound bridge across Macquarie Rivulet
Sep 1972 - Deviation between Boydtown Creek and Kiah
1975 - Deviation at Brownsville and new bridge across Mullet Creek
1975 - Currumbene (Parma) Creek Deviation (7.8-11.23km south of Nowra)
Sep 1975 - Sutherland Bypass
Sep 1975 - Bridge over Bega River, Bega and deviation opened
Dec 1976 - Dual carriageways: Fairy Creek to Smith St, Wollongong
Sep 1980 - Bridge over Shoalhaven River, Nowra duplicated (new northbound bridge)
Sep 1981 - East Street Deviation, Nowra
Oct 1981 - Batemans Bay Deviation
Dec 1982 - Bridge over Merimbula Lake, Merimbula (bypassed Jan 1992)
Dec 1984 - New concrete bridge (northbound) across railway line at Yallah
1985 - Dual carriageways: Soudan St to Achilles St, North Wollongong
1986 - Tom Ugly's Bridge duplicated
1987 - Yallah railway overpass duplication
Dec 1987 - Kiama Bypass (commenced Dec 83)
Aug 1989 - Roundabout at the intersection with SR79 at Bomaderry
Sept 1990 - Macquarie Rivulet bridge duplication
Aug 1990 - Tilba Bypass
Nov 1990 - Widening from Yallah to Oak Flats completed
Jan 1992 - Merimbula Bypass
1993 - Oak Flats to Dunmore Upgrade EIS exhibited
June 1993 - St Peters to Pyrmont route improvements completed (commenced April 1987)
Dec 1993 - Wolumla to Yellow Pinch realignment
July 1995 - Tomerong Bypass
Feb 1996 - McLeods Hill Deviation
Aug 1997 - Myrtle Gully Deviation
Nov 2000 - Helensburgh Interchange
19 Oct 2001 - Oak Flats Interchange
3 June 2002 - Yellow Pinch to Milligandi realignment
15 Oct 2002 - Redeclared to exclude the section from Waterfall to Bulli Tops
Aug 2003 - Haywards Bay Interchange
Nov 2005 - North Kiama Bypass