AUSTRALIAN CAPITAL TERRITORY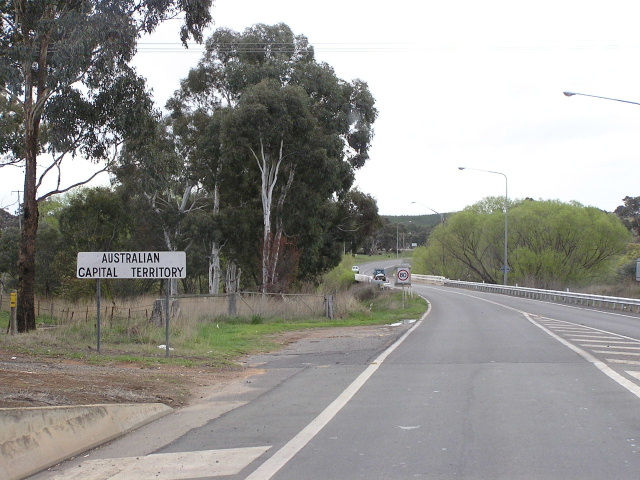 Typical ACT border sign on Yass Road at Queanbeyan, October 2004.
The Australian Capital Territory is home to the federal government of Australia, constructed from the 1930's on land donated by the New South Wales government. Canberra is the only city in Australia to be completely planned from the beginning and it shows, with the road infrastructure the best of any city in the country.
It isn't just the roads that are well designed, Canberra is split up into 5 major satellite cities: Gungahlin, Woden, Tuggeranong, Belconnen and Queanbeyan, which lies just over the border in NSW. With this, comes the signposting problems as these are the only major destinations (along with a few others) within the ACT that are signposted. When combined with the nature of Canberra's roads it makes for some difficult navigation and some curious focal points.
The ACT has no 'state' route numbering system, instead relying on 7 colour-coded tourist drives and the National Routes that pass through the city. Canberra is actually bypassed by Alternate NR-23 which is the newest Alternate National Route in the country at a time when more and more Alternate Routes are being decomissioned.
Follow the links below to see pics and find out more about Canberra's road network.