TASMANIA'S HIGHWAYS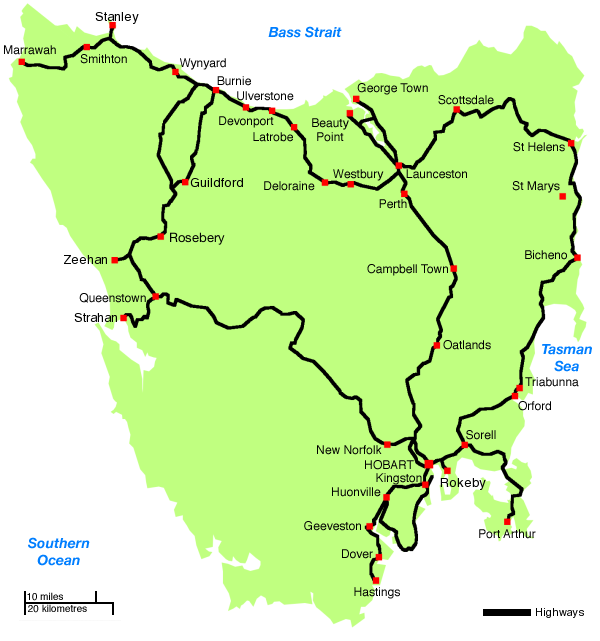 A map showing the location of Tasmania's highways. Source: Paul Rands, June 2007.
In this section:
- Introduction
- List of active Tasmanian Highways
- List of decommissioned Tasmanian Highways
This section covers Tasmanian's Highways, i.e. those roads declared as State Highways under the Roads and Jetties Act 1935. See Road Classification in Tasmania page for further information.
The first highway in Tasmania was probably declared in 1929, judging by the title of the 1929 State Highways Maintenance Act, the first Act to refer to the term 'Highway' or 'State Highway'.
The majority of the network was declared during the 1930s and 1940s, and a major review of the classified network was undertaken in 1970. Full details on this review will be coming soon.
The list below provides an accurate description of Tasmania's highway network as it currently stands. Decommissioned Highways are those roads which were once part of the State Highway system but are no longer declared as thus. Of course, other than fully decommissioned highways, there are many old alignments of highways that are no longer in use. These are covered under the relevant highway page.
Arthur Highway

Bass Highway

Brooker Highway

Channel Highway

Domain Highway

East Derwent Highway

East Tamar Highway

Huon Highway

Lyell Highway

Midland Highway

Murchison Highway

Ridgley Highway

South Arm Highway

Southern Outlet Highway

Stanley Highway

Tasman Highway

West Tamar Highway

Zeehan Highway
List of decommissioned Tasmanian Highways
Lake Highway

Marlborough Highway

Meander Valley Highway

Tarraleah Highway

Waratah Highway
Last updated 7 June 2007
© Ozroads 2004-2007.