NORTHERN TERRITORY'S HIGHWAYS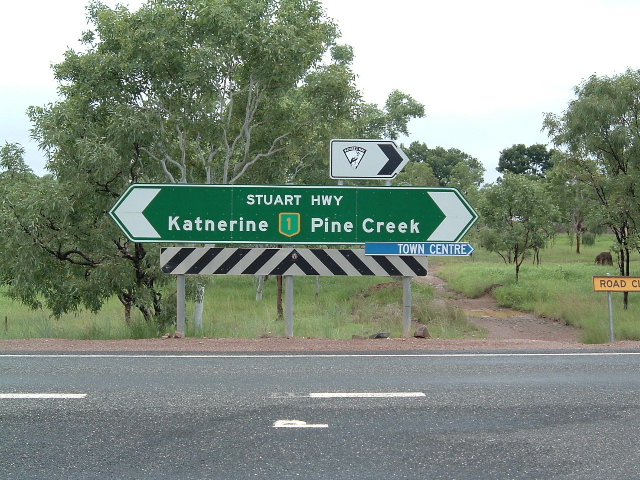 A double-chevron ID sign for Stuart Highway at the junction with Kakadu Highway, Pine Creek. Source: NT Government, Jan 2004.
Northern Territory does not have a 'declared' highway system, as explained in the Road Classification in Northern Territory article. Thus, the 'highways' of the Territory are those named so by the NT Place Names Committee.
The spine of the Highway network is the Stuart Highway, which easily carries the highest traffic volumes in the Territory. Branching off the Stuart are the Barkly and Victoria Highways, which are also major interstate routes, connecting with Queensland and Western Australia respectively.
The remainder of highways in the Northern Territory also tend to the branch from the Stuart Highway, generally providing either an interstate connection (e.g. Plenty Highway), a connection between highways (e.g. Buchanan Highway), or a connection to a significant locality (e.g. Lasseter Highway).
These days, there is no direct correlation between a route's strategic importance and it having a 'Highway' name. Roads such as Tanami Road or Tjukaruru (Docker River) Road provide important interstate connections yet do not get a 'Highway' name.
It is proposed that new roads legislation for Northern territory will be introduced in 12-24 months time. As part of this legislation, roads are likely to be classified as Highway, Main Roads or equivalent categories and we may have some changes in those roads that are 'Highways'.
Click on the links below to read about each highway.
List of active Northern Territory Highways
Arnhem Highway

Barkly Highway

Buchanan Highway

Buntine Highway

Carpentaria Highway

Kakadu Highway

Lasseter Highway

Plenty Highway

Roper Highway

Ross Highway

Sandover Highway

Stuart Highway

Tablelands Highway

Victoria Highway
List of decommissioned Northern Territory Highways
The Duncan Highway was largely a Western Australian highway, however the creation of the Ord River dam (Lake Argyle) in the 1970s necessitated the realignment of Duncan Highway into the western extremity of Northern Territory. A full history of Duncan Highway, including photos, is provided in the Western Australia section of this site - or via this link.